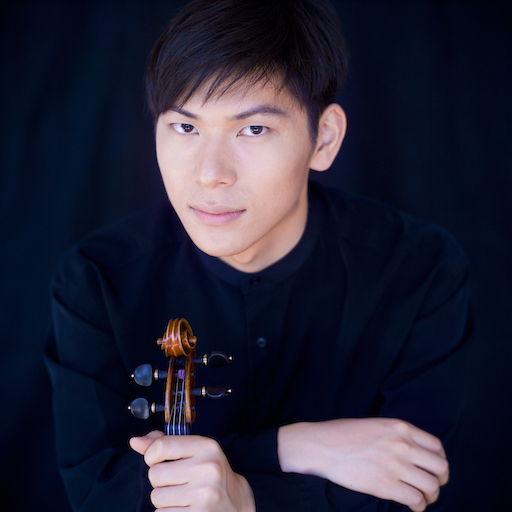 Yujin Ariza, violinist, made his Carnegie Hall debut in May 2008. A winner of the National Young Arts Foundation 2013, Yujin made his concerto debut with the El Camino Youth Symphony as a winner of its Concerto Competition with a full house audience at Flint Center, Cupertino, CA in 2008. He appeared again as a soloist with the Symphony to perform Ravel's Tzigane in 2010. Recently, Yujin appeared with the Winchester Orchestra by performing Tchaikovsky's Violin Concerto as a guest soloist. He also performed with the Nova Vista Symphony as a soloist of its Young Artist Concerto Competition winner in 2012. He performed at the From The Top soiree in San Francisco as well in 2012.
Yujin has been touring with the El Camino Youth Symphony as a guest soloist in summer 2013. He performed Sibelius Violin Concerto with the symphony at Dvorak Hall of the Rudolfinum in Prague, Grosse Saal of the Mozarteum in Salzburg, Slovak Radio Hall in Bratislava, and Bela Bartok National Concert Hall in Budapest. He had also performed a solo recital in Prague.
Born into a musical family, Yujin began to study the violin at age 3 and the piano at age 4. From an early age, he won numerous competitions and awards including the Teachers' Associations' CMTANC Competitions where he won the 1st place in 2008 and 2002, the Junior Bach Festival, American Arts Festival, El Camino Youth Symphony Concerto Competitions and the Nova Vista Symphony Concerto Competitions. Most recently, Yujin won the 1st place in the Music Teacher's Association's VOCE competitions of California State Final. He also received piano awards as well at the International Russian Music Competition and the CMTANC Competitions.
Yujin had appeared in several Summer Music Festivals such as the Aspen Music Festival and School, Music@Menlo Chamber Music Festival and Institute, Yellow Barn Music Festival and School, MERIT of the Academy of the West. As a chamber musician, Yujin collaborated with the Borromeo String Quartet to perform Mendelssohn's Octet in 2012. He has performed various composers' chamber music with many young artists in different venues, such as Kohl Mansion in Burlingame, CA, Paine Hall in Harvard University, MA, among others.
Yujin had played in master classes lead by Zakhar Bron, Dong-Suk Kang, Martin Chalifour, the Principal Concertmaster of the Los Angeles Philharmonic, Philip Setzer, from the Emerson String Quartet, Masao Kawasaki, from the Juilliard School, former Tokyo String Quartet first violinist, Koichiro Harada, Joseph Swensen, Nam Yun Kim, Krzysztof Wegrzyn, among others.
Yujin had performed in many different venues in US, Canada, Poland, Austria, Italy, Japan and Germany, including in the legendary Berliner Philharmoniker Concert Hall.
Yujin studied violin with Mr. Li Lin at the Juilliard School. His teachers include Professor Naoko Tanaka at the Juilliard School. He also studied Computer Science at Columbia University as a Columbia / Juilliard Exchange Program Student.